The difference between what we do and what we are capable of doing would suffice to solve most of the world's problems.
Mahatma Ghandi
Eaglei is owned and led by Duncan Lewis. With over 30 years experience, he has enjoyed a wide-ranging and successful career history working in the private, public and charitable sectors as well as the performing arts.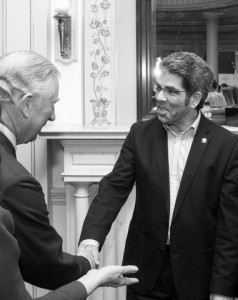 Duncan spent two decades as an accredited Business Adviser and Trainer, as well as running a successful personal development training business. He is passionate about coaching individuals and teams to improve performance and maximise their potential.
A Masters Degree in Leadership and Management helps Duncan to understand what it takes to communicate, lead and inspire at every level. With his astute insight and expertise – combined with enthusiasm and infectious motivational style – Duncan inspires others.
A number of Associates, with a wide range of specialist expertise, often work alongside and support Duncan to reinforce the training. These skill areas include:
Voice and Body Language
Video Production
Human Resources
Married with one son, Duncan's other passions include theatre, swimming, yoga, walking in the Yorkshire Dales, listening to his eclectic taste in music and continuing his lifelong love affair with football.
When you meet Duncan, you will know why he is great. Anything around personal development is his thing, but he has the business acumen as well. When you are with Duncan, you can achieve anything!
Sue Collis-Scurll, Former Programme Executive, The Prince's Trust