After months in the incubation phase, one single egg has now hatched and flown: Eaglei has spread its wings and taken to the skies for the first time…and what a first flight it has been!
Throughout the summer and early autumn, while completing my Masters Degree in Leadership and Management, I set about working with two brilliant colleagues on the branding and website for my new consultancy. I am delighted with what we came up with. The creativity and patience of graphic designer James Drawneek – www.jamesdrawneek.co.uk – was so appreciated as he produced the striking Eaglei logo and branding. Having established this, I then asked Michael Shannon – www.vgom.co.uk – to produce my website. Once again, Michael totally understood the challenge I set him; to come up with a business-like design that would complement James' creative branding. I am thrilled by the result and judging by the overwhelmingly positive reaction, so are many other visitors to the site.
I understand that the first few months in particular of any new business are all about promotion; in this case, promotion of me and my website. Unless people know about you, they cannot buy your product or service! To start the ball rolling, I sent out hundreds of emails to my personal address book and via LinkedIn – www.linkedin.com/in/dnlewis. As I say, the reaction has been so encouraging but of course, I am only too aware of the importance of capitalising on the goodwill expressed and turning some of this into actual offers of work. At the same time, I also set about attending several business networking events in the region like the recent Business Growth Conference at the Crown Spa in Scarborough.
Again using my network of contacts, I offered my services as a motivational speaker to talk at some of the local business networking groups. Very quickly two of these groups, Pocklington Business Network – www.linkedin.com/groups/Pocklington-Business-Network-2702100/about – and FSB East Coast – http://www.fsb.org.uk/north-yorkshire/east-coast-branch – booked me to deliver motivational talks on, 'The Human Element – How to Make an Emotional Connection in Communication'. I am delivering both talks free of charge. Here I am delivering at the recent Pocklington Business Network meeting.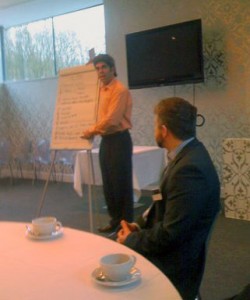 I firmly believe that not everything has to be done at a commercial rate. Firstly, I am keen to 'be seen' doing what I do best. Secondly, I also recognise and appreciate the fact that these events are normally well attended and that this gives me the opportunity to meet lots of potential future customers. With two more talks booked for the New Year, this is clearly an exciting growth area for me.
A friend of mine asked me recently whether I had found the experience of setting up my business empowering. I replied yes in several ways. The most empowering aspect is to know that I could do it. Having worked for other people for the vast majority of my working life, I knew that I could apply and channel everything that I have learned to date into my own venture. I have found this not just empowering, but inspiring. The other aspect is to know that I alone am responsible for 'setting the agenda'; I decide the answers to the who, what, when, how and why questions. But, most importantly, I do so according to my values and principles and not someone else's. Now that is truly empowering!
So what next? Well, clearly more promotion – hence my first blog article! I also intend to target more specifically my respective potential customers for the three services that Eaglei offers – www.eaglei.uk.com. I will also be running my first 'open' training and development workshops in the New Year in Scarborough and York.
This should keep me busy – more next month!